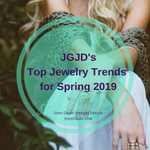 Hi Lovelies!
I recently listened to a podcast episode that went over the biggest jewelry trends for Spring 2019. As a designer and Metalsmith, I usually don't follow trends. I prefer creating designs that are the backbone of my clients' jewelry wardrobe. But, this doesn't mean that I'm not aware of what's going on in the world of fashion jewelry. Sometimes, I like seeing what's trending, and how it fits into the overall aesthetic of Josie Graff Jewelry Design. So, I've scrolled through and found My 4 Favorite Jewelry Trends for Spring 2019!
1. Statement Jewelry
 This spring, it's all about making a statement in the jewelry world. Most designers translate this as "bigger is better", but I know that many of my clients hate wearing something so big that it gets in their way. We all define the phrase 'statement piece' on our own terms, some love bright and bold jewelry, while someone else wants their statement jewelry to be on the dainty side. Here's my take-earrings and necklace with lots of movement, a little bit bigger but totally wearable (perfect for everyday glam!).
Growing Drop Earrings-Emergence Collection-$133
Sustenance Necklace-Emergence Collection-$150
2. Nature-Inspired Jewelry
 While many of the Fashion Jewelry Brands focus on a beachy-boho nature vibe, many of my designs are inspired by the natural beauty that surrounds my home. Living in rural Northwestern Pennsylvania, that means lots of old and graceful trees, creeping vines, wildflowers and ponds tucked into forests. Both the JG Signature and Emergence Collections offer up great examples of this.
Growing Vine Pendant Necklace-JG Signature Collection-$135
Emerging Drop Earrings with Pink Freshwater Pearls-Emergence Collection-$122
3.Mix-and-Match Earrings
 Good news for those of us who lose random earrings! Mixing and Matching is totally in right now. You can pair similarly sized stud earrings together, a dangly earring with a stud, or a really big earring with a super tiny one. This is the kind of trend you can have a lot of fun with!
Emerging Fine Silver Stud Earrings-Emergence Collection-$33
Paisley Stud Earrings-JG Signature Collection-$30
Nurturing Drop Earrings-Emergence Collection-$130
4.Chains, Chains, Chains
 I'm super excited for this current trend-I LOVE designing and making chains! In fact, I plan on creating a couple of One-of-a-Kind necklaces and bracelets over the next few weeks featuring my unique chains. In the meantime, I do have other chain designs already to go from both the JG Signature and Emergence Collections for you to enjoy.
Paisley Bib Necklace-JG Signature Collection-$107
Expansive Necklace with White Pearl-Emergence Collection-$175
Paisley Wings Wire Earrings-JG Signature Collection-$62
 Alright, that's a wrap on My 4 Favorite Jewelry Trends for Spring 2019! Do you have a fav style that's "IN" right now? Drop your comments below because I'd love to hear what you think!
XOXO,
Josie
P.S. Got a friend or family member who loves jewelry? Could you do them (and me) a big favor and send them the link to The Fab(ricating) Life? I would deeply appreciate it, and so will your loved one!
Other Posts You Might Enjoy
5 Ways Figure Skating is Like Jewelry Design
On My Bench-Forming A Stacking Ring