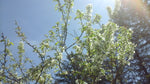 I love the month of May. While I appreciate the beauty in all the other months and seasons, May really holds a special place in my heart. May is when it truly becomes spring in northwest Pennsylvania. The days are long, sunshine filters through newly emerging leaves, fruit trees and spring wildflowers just burst out in bloom. Even May's birthstone, the Emerald, represents renewal, rebirth and revitalization in both nature and in the wearer's life. And, my birthday is in May-that might factor into my love affair with this month!
Growing up, I always got excited when the blue violets started blooming-they were a sure sign that May had arrived. White violets are even more special, with their dainty size and incredibly beautiful fragrance. I can only find them in one small area in my parents yard. Nature is very influential to my design process, along with the Art Nouveau movement of the early 20th century. They go together so well, and I find inspiration in both!
May is also when the shops at the Canal Park Market Village gear up for the summer. The Market Village is where I have my work studio-you can come see how I fabricate jewelry!-and my jewelry gallery. This has been an exciting departure for me, opening my own store in my hometown, along with being a chance to overcome my fears in having a jewelry business. I do struggle sometimes in not believing that my work is good enough or that it won't stand out from the crowded jewelry field. Being supported and encouraged by friends, family and fellow jewelry designers helps keep me motivated! 
This year, I was trying to think of a special way to celebrate my birthday. Last year, I was so fortunate to attend an amazing metalsmithing conference in Asheville, NC that really encouraged me to go for my dream of starting my own jewelry business, but this year, I wanted to stay closer to home. I also wanted to find a way to give back, even just a little bit, and share my love of jewelry with others who value quality over quantity when it comes to their jewelry. So, I decided to put together nine (9) jewelry gift sets of some of my favorite designs, and have them available at a special price! They will only be available from May 17th-21st on my Etsy store-
MetalsLanya
-and in my studio May 18th-20th during regular open hours. I hope to show you what these gift sets look like very soon! You don't want to miss out on this special, and help me celebrate my birthday!
 Are you a spring baby, too? Do you have loved ones who are Tauruses or Geminis? Let me know!
Thanks!