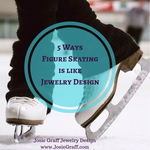 Hi Lovelies!
I want to let you in on a not-so-secret secret about me: the only thing that comes close to my love of jewelry design is figure skating. The U.S. Figure Skating Championship and the European Championships wrapped up about a month ago, with some new champions crowned and others defending their titles. Now, the best skaters from Team USA and around the world are getting ready for the 2019 World Championships, a.k.a. the biggest competition of the season. Seeing all these amazing athletes throw down their inspiring performances got me thinking about just how similar Skating and Metalsmithing are in the grand scheme of things. In fact, I came up with these Five Ways that Figure Skating is Like Jewelry Design! Let's get started!
Tenacity
First up is tenacity. Both figure skaters and jewelry designers develop their tenacity through failure. There are so many times that things don't work out the way that they're intended, so the best way to understand why is to learn from mistakes and try, try again. Having dreams, goals and action plans really help when things get so tough that you want to quit-a.k.a. it's your motivation to (literally) pick yourself up when you fall.
Artistic Expression
Next, figure skaters and jewelry designers use their artistic expression to imagine and construct something beyond themselves. Its not enough to just know how to do/make, artistry weaves everything together, creating something that is intrinsically more than just the sum of its parts and the technique(s) used. For skaters, this translates into the chirography and mood they're trying to express in every one of their programs. For jewelers, this means using their creativity, curiosity, and design atheistic in everything from drawing ideas in their sketchbook to finishing each piece they make.
Technical Difficulty
Both figure skating and Metalsmithing are very technically demanding. The skills required to do seemingly simple things are incredibly advanced. Trust me, and anyone who's ever gone ice skating, the skill it takes just to move forward without falling down is immense! Let alone all the moves that National and Olympic athletes do that look effortless. And in jewelry design, it takes years of training to truly master techniques like stone setting, enamelling, granulation and hammering skills. Even the basics-sawing, filing, and sanding-take time and patience to gat rignt.
Practice, Practice, Practice
Practice is what ties tenacity, technique and artistry together. You simply can't expect to get anything right the first time you try it. Weather it's learning the basics to master-skill level, you have to put in the time until you can't mess up. Yes, I said you have to practice until you can't mess up. Because, it's not enough to just practice until you get it right-creating consistency is key in both performances and in constructing wearable art. 
Inspiration
This is where both figure skating and jewelry give back to their fans. These two different forms of beauty and strength inspire within us hope, joy, courage and confidence (among other things) that we, as the audience, carry with us long after we watch/wear.
Bonus: Sparkle
What? Seriously, you knew I couldn't write about jewelry and skating without stating the obvious, they're both all about the sparkly bits! And an obsession with shiny, precious metals. 
JGJD's Emergence Collection Cluster Stud Earrings with Tube-set Peridot
 Papadakis/Cizeron of France
JGJD's Emergence Stacking Ring with Black Pearl
 Mariah Bell of Team USA
Growing Sterling Silver Drop Earrings-Emergence Collection
 James/Cipres of France
 JG Signature Silver Curves Stud Earrings
 Yuzuru Hanyu of Japan
 JG Signature Paisley Wings Wire Earrings with Pearl Drops
 Maia & Alex Shibutani of Team USA.
 Sustenance Necklace-Emergence Collection
 And, of course, the man, the myth, the legend-Johnny Weir of Team USA!
 There you have it, my 5 Ways Figure Skating is Like Jewelry Design! Let's recap, both start with having the tenacity to keep going when things get tough, they delight us with their artistic expression, they wow us with their mastery of advanced technique, they remind us that you can't be an expert without practice, and they both raise and inspire us. And, both figure skating and jewelry remind us that it's ok to sparkle and shine!
XO,
Josie
P.S. Love what you just read? Sign up for the JGJD mailing list to be in the know and catch all the latest from The Fab(ricating) Life! Click on the Blue Triangle in the top right corner of this page and join the fun!