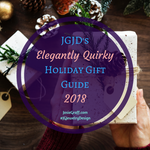 Hi Lovelies!
Are you struggling to find the perfect gift for this Holiday season? Especially for your bestie/sister/aunt/mom/co-worker who's quirky and elegant? Don't worry, I've got you covered!
I know the pain of trying to find the perfect gift, both as the giver and as the receiver. It's tough to find something that's thoughtful, meaningful, and beautiful that she'll appreciate. (Hint: avoid super bouncy balls and cutesy key chains) So, I've scoured the inter-webs for the perfect gifts for jewelry lovers, side-hustlers, jet-setters, figure skaters, and more!  
The Jewelry Lover
 A jewelry designer talking about jewelry gift giving?! Shocker, I know. :p But in all seriousness, the Jewelry Lover in your life will adore receiving jewelry that fits her personality and style for the Holidays. The key is to pick out pretty pieces that fit her lifestyle(active, at the office, at home, etc.).
JGJD's Emerging Fine Silver Stud Earrings-$33
JG Signature Paisley Wings Wire Earrings-$62
JGJD's Emerging Sterling Silver Necklace with 6mm White Pearl-$145.00
Mini Jewelry Case in Blush by Cuyana-$105.00
The Sensitive Gourmet
The Sensitive Gourmet loves creating (and eating) beautiful, delicious, Instagram-worthy meals, but they can't ingest certain foods, like those that have gluten, dairy, eggs, or soy-so gifts that help her out and keep her from getting sick will put you on the Nice List.
Simply Gluten Free Magazine-$29.95 for a 1 year subscription 
 Top 8 Allergen Free Subscription Box by Tasterie-from $32.95
Danielle Walker's Against All Grain Celebrations-$30.14 on Amazon
My Paleo Patisserie by Jenni Hulet(Hardcover)-$39.54 on Amazon
The Side-Hustler
 The Side-Hustler works super hard at both her day job and on her dream business, often staying up late at night and getting up extra early in the morning to get things done. She is always on the lookout for pretty, inspiring items that will help her Do. All. The. Things. for her business.
Girl Boss Gift Box from WhiteConfettiBox on Etsy-$39.75
Building My Empire 17 Month Planner-$29.99
Hustle Pen in Gift Box-for Boss Babes-$12.95
The Athlete/Figure Skater
 Whether she's training for a marathon, Iron Man, or Nationals, the Athlete (and Figure Skater!) is always on the hunt for things that make those cold, a.m. practices more bearable. Give her gifts that will help her stay warm, hydrated, fueled up and limber.
Handmade Wool Felt Hand Warmers from OrphaBeatrice on Etsy-$14.99
ThinkSport 17 oz. Water Bottle in Light Pink-$18.00
ThinkSport Go4th Insulated Food Container-350ml-$20.00
Gaiam Foldable Yoga Mat in Icy Paisley-$24.98
The Sensitive-Skin Beauty Queen
 The Sensitive-Skin Beauty Queen has similar issues like those of The Sensitive Gourmet, except it's her makeup and other personal care items that cause her problems. Finding things she can use is a little tricky, so focus on companies that only use allergy-friendly ingredients.
Lavish Lavender Body Butter by Lavender Jade Natural on Etsy-$6.00-$14.00
Mini Bling Gift Set by Monave-$32.00
Get Gorgeous Promo Box by Emani Vegan Cosmetics-$39.00
Beauty Spa Gift Set by Little Flower Soap Co. on Etsy-$29.00
The Self-Care Expert
 A big fan of the Danish term Hygge, The Self-Care Expert needs to take time for herself to relax and recharge. Give her gifts that help her heal and grow.
Growing Wishes Seed Kit from Uncommon Goods-$20.00
Hand-sewn Barmer Kantha Throw Blanket from Bloom & Grow-$80.00
Friendship Relaxation Spa Gift Set by Lizush on Etsy-$39.00
The Year of Cozy by Adrianna Adarme-$17.12
The Hostess with the Mostest
 She gives The. Best. Parties. Ever. But, sometimes, The Hostess with the Mostest would love to know how much she's appreciated (and maybe some things that will help her out at her next soiree). 
Slate Cheese Board from SlatePlate on Etsy-8"x16"-$44.00
Isla Handwoven Napkins from Bloom & Give-$36.00 for 4
Beeswax Aromatherapy Gift Set by Big Dipper Wax Works-$65.00
Golden Whale Server from Dejumo-$32.00
The Fashionable Earth Goddess
 The Fashionable Earth Goddess is hyper-aware of the impact she has on the world around her, yet manages to not look like she's a time-traveling Hippie from the late 1960's. Look for fair-trade, re-purposed and vegan accessories that are gorgeous, classy and sustainable.
Yvette Coral Sky Wrap Scarf from RefuShe-$44.00
Madison Re-purposed Billboard Vinyl Wristlet by Rareform-$48.00
Bridgette Color Block Vegan Purse by Gunas New York-$130.00
Madeline Hat from Krochet Kids-$12.00
The Jet-Setter
 No one loves exploring the world more than The Jet-Setter! And she is always on the lookout for pretty, handy things to pack that won't way her down during layovers and train-hopping between cities. Go for products from companies that focus on great design, cute patterns and usability. 
Mochi Things Small Monopoly Travel Mesh Pouch in Mint Daisy-$14.95
Eiffel Tower Packing Cubes from RockFlowerPaper $27.95
Mochi Things World Map Travel Tags-$6.95 Each