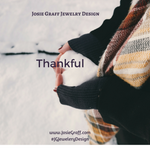 Hi Lovelies!
(This is a re-post from my old blog. I wanted to put it on here at The Fab(ricating) Life because it still applies this year)
It's that time of year again-Thanksgiving! Normally, Thanksgiving isn't my favorite holiday (I really don't like the food), but having a day that is set aside for all the things in our lives that we are grateful for is something I can get behind. So here are some of the things for which I am thankful:
Good Health
Our health is something that most of us take for granted, until we're faced with a serious illness. But health issues are a part of life that can happen at any time. After taking care of my mom during her battle with Stage 4 kidney cancer, I realized this truth at a deeper level than I had before. 
Family
I have grown much closer to both my immediate and extended family over the nearly two years since my mom passed away. I feel their support in a way that I didn't before, and I have greater appreciation for my entire family. Thank you guys!
Self Growth
Especially this year, I have grown so much as a person due to the challenges I willingly took on, both in my personal and professional life. While the struggle is very real, I wouldn't change it for the world. 
Mentors
I wouldn't have the courage to turn my dreams into my reality without daily encouragement from my mentors. I make sure to read something from SGI President Daisaku Ikeda every day, especially when I'm feeling stuck or unsure of myself. Plus, a big shout-out to Tracy & Robin of Flourish and Thrive Academy-you ladies are the rockstars of the jewelry business world! 

Support
Be it friends, family, peers or current and future clients, knowing that you lovelies have my back is one of my biggest motivations and inspirations to keep moving forward.
Jewelry + Biz
While this year isn't quite what I wanted it to be, I'm so grateful to be doing something I truly love that allows me the chance to add a little more beauty to the world.
So there's some of what I'm most thankful for this year, now it's your turn. As we gear up for the intensity of the holidays, what is something that you are grateful for everyday? Practicing gratitude daily helps keep us grounded, less stressed out, and happier.
Xoxo,
Josie