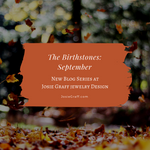 Hi lovelies!
Ever wonder what each month's birthstone means?
Are you wanting to learn more about the special properties of gemstones?
Do you need some help in finding meaningful gifts for the most important people in your life?
Are you looking for fun ways to style birthstone jewelry?
If you answered "Yes, that's me!" to any of these questions, then this blog post is for YOU!
Welcome back to my new blog series on birthstones! Every month, I'll be creating a post about that month's particular birthstone, what it symbolizes and some of the best ways to wear birthstone jewelry. I'll also show how I use birthstones when creating jewelry, along with giving you examples from other amazing jewelry designers!
Let's get started!
The Sapphire
September's birthstone is the Sapphire, one of the most loved and coveted gemstones in the world. As a member of the corundum family, the same gemstone family as Ruby, Sapphires are also the second-hardest substance after Diamonds! In fact, the only difference between Rubies and Sapphires is color. They can vary in color and hue from light blue to violet-blue to the deep blue that is the most desirable of all. Sapphires can also come in natural yellow, purple, pink and green due to trace elements that are incorporated at the start of its formation. I'm just going to focus on Blue Sapphires today ;)
Throughout the ages, Sapphires have symbolized truth, sincerity, wisdom and inner peace. They were also believed to protect the wearer from being harmed and tempted by evil. Sapphires were used to improve the mental focus of its owner.
Sapphires are currently being mined in North Carolina and Montana in the United States, Sri Lanka, Madagascar, India, Thailand and China.
Elichai 
does custom amazing work using Sapphires, and I love what
Kate Wood
& 
Audry Rose
 also do! Of course, I couldn't a blog post about jewelry designers using birthstones without showing some of my work, amiright? Right now, I just have the
JG Signature Growing Vine Pendant with Blue Ombre Gemstones
 on my website
JosieGraff.com
 (hopefully, more will be added soon!).
How to wear & Style Sapphire Jewelry
Just because summer is ending, it doesn't mean we have to put all of our favorite clothes away yet! Layering is our Fall Fashion BFF. Think about pairing denim jackets, cute cardigans, and boots/booties with your favorite sundresses, tank tops and skirts. Don't forget to add colorful tights and scarves for crisp, cool days! This
sundress
 & cardigan combo  and these
shorts with tig
hts
 pair beautifully with everyday Sapphire jewelry. Adding a Sapphire Statement Necklace & Earrings to either this 
skirt & sweater
, this
mini skirt
 or this 
blazer & shorts combo
will give you a polished look for as you transition into fall work outfits.
There you have it, lovelies! I pretty much covered everything you need to know about Sapphires, from the type of mineral and color, to where it's found, how designers use it to create beautiful jewelry, and ideas on how to style outfits with this gorgeous birthstone. Let me know if you have any questions, comments or styling ideas about Sapphires, I'd love to know & help!
XO,
Josie
P.S. Have you checked out some of my other blog post? Especially the August Birthstone one? You don't have to miss out on the awesomeness, just sign up for my newsletter and I'll let you know when I publish my next post!