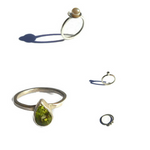 What does a jewelry designer do all day? How is jewelry made? How do I know if the jewelry I lust over is made by an actual person?
If you've ever wondered these questions, I've got some good news! Welcome to JGJD's blog series "On My Bench", where I take you behind the beautiful jewelry and show you how I work & create using sterling silver, gemstones, and more.
Today, I'm showing you one of my classics, the deceptively simple stacking ring. 
For my first on my bench series post, I'm going to show you how I form a stacking ring. This is one of my classic and most popular things that I make out of Sterling, and  I want to show you that I don't buy the ring Shanks and put the stones on them, but I actually make them by hand.
Let's get started!
I start off with either 12 or 14 gauge round sterling silver wire. These are both good gauges for doing rings because they're pretty sturdy and they don't get bent out of shape like thinner shanks do. Then, I take my handy-dandy little size cheat sheet to check the length for the ring shank wire that I want to make for each ring size.
Once I figure out the length I need & measure the wire, I use my jeweler's saw to cut the wire. I like sawing apart wire that's thick as opposed to using wire cutters, it gives it a cleaner edge so there's a little less clean up and then the ring won't scratch you or have a weak seam for soldering. To prep the ring for soldering, I don't try and get the ring perfectly round because it's really hard to get the ends to line up that way. I just need the ends to line up flush for a good solder seam. 
Now that everything is lining up the way it's supposed to, it's time to solder! I put some flux on the ring shank right where the the two ends meet and then, I heat everything up with a soldering torch. I wait until the flux goes from pasty white to a clear, glassy surface before I place the solder onto the seam. That glassiness is how I know that the ring is at the right temperature (around 1200 Fahrenheit) for my solder to flow. Holding the torch in my left hand, I use my right to hold a soldering pick or tweezers to place a teeny-tine piece of solder just on the top of the seam, and keep heating everything up until the solder melts and flows into the seam, creating a very very strong connection that is not easy to break apart. It's actually one of the strongest ways of connecting metal together. Now that I've got the shanks solder together, I have to pickle it. Pickle is a term that jewelers use for a acid bath that's heated at a low temperature (usually in kind of like a slow cooker type container) and it it kind of cleans off the gunk that comes up when you solder. I use a citric acid-based pickle-it's one of the safest ones out there. It's like really super concentrated orange juice as my former professors would say. There are other pickles, out there but they're pretty toxic and poisonous, so I try to avoid them. Once my metal is clean, after about 10-15 minutes, I'll dunk it into some fresh water for rinsing, dry it off and start forming it into the proper shape. Using a ring mandrel and a wooden mallet, I begin tapping the ring all around to even out it's shape. Then, I hit harder to start forming the ring to the size I want it to be, usually between a size 6 and a size 8.  Once I get the shank as round as I can get it I'll switch over to my goldsmith's hammer to create a flat area for soldering on a stone setting or fine silver granulation. 
Once I make several stacking rings, I solder on whatever I want onto the flat section, clean up any rough areas, and finish them up! (I'll show you how I set a stone in a future blog post)
 And that is how I make a stacking ring, folks! If you liked what you read today, I'd love to know! Please leave a comment below, check out my shop, and go ahead & sign up for my mailing list-I let my subscribers know about my latest blog posts, so you can always stay up-to-date!
Thank you!
XO,
Josie