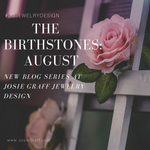 Ever wonder what each month's birthstone means?
Are you wanting to learn more about the special properties of gemstones?
Do you need some help in finding meaningful gifts for the most important people in your life?
Are you looking for fun ways to style birthstone jewelry?
If you answered "Yes, that's me!" to any of these questions, then this blog post is for YOU!
Welcome to my new blog series on birthstones! Every month, I'll be creating a post about that month's particular birthstone, what it symbolizes and some of the best ways to wear birthstone jewelry. I'll also show how I use birthstones when creating jewelry, along with giving you examples from other amazing jewelry designers!
Let's get started!
The August Birthstone
August's birthstone is the lovely Peridot (the "T" is silent), a member of the Olivine mineral group, is formed under volcanic activity. It's associated with peace, good fortune and happiness-three qualities many of us (including myself) seek in our daily lives-along with growth, dignity and love.
 The mellow glow of the Peridot comes in shades of pale green to olive and even lime green, earning this lovely gemstone the nickname 'The Evening Emerald'. It is also believed that the stone has the power to ward away Evil and nightmares, bestowing peace and progress in one's life.
Peridot is pretty rare to find, but mines for it can be found in Egypt, Australia, Kenya and Brazil. And the United States has a few peridot mines in Arkansas, New Mexico, Arizona, Nevada and Hawaii.
Where to find Peridot Jewelry
Verbena Place Jewelry 
does amazing work using peridot, and I love what
Lorenzo
&
Margoni
also do! Of course, I couldn't a blog post about jewelry designers using birthstones without showing some of my work, amiright? Here is some of what I currently have on my website JosieGraff.com, including my
JG Signature Ooak Paisley Necklace with a 15mm Peridot Trillion and Fine Silver Granulation
 and my
JG Signature Ooak Paisley Earrings
 with Peridot
 to match.
How to Wear & Style Peridot Jewelry
I have a confession to make-I'm obsessed with Sundresses! I mean, they are the easiest & fastest way to stay cool and look gorgeous in the summer heat. These two dresses in pink and white lace pair beautifully with Peridot jewelry. Adding a Peridot Statement Necklace & Earrings to either this white & tan bodycon top and pencil skirt or this pink blouse & skirt combo will give you a polished look for your late summer work outfits.
There you have it, lovelies! I pretty much covered everything you need to know about Peridot, from the type of mineral and color, to where it's found, how designers use it to create beautiful jewelry, and ideas on how to style outfits with this gorgeous birthstone. Let me know if you have any questions, comments or styling ideas about Peridot, I'd love to know & help!
XO,
Josie
P.S. Here's a video I did on Peridot. I hope you enjoy it!