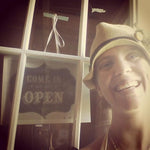 So sorry about the three-month hiatus! I struggled with what to write along with having a busy summer. I plan on updating this blog more often this fall and winter, no worries!
Here are some of the things that happened this summer:
 I launched my first collection, JG Signature, at the end of July. That took several months of planning, designing and making to create! But, I'm proud of this collection, it combines my elegantly quirky style with some great everyday jewelry designs. 
I updated my displays and jewelry cards, from all of those competing colors to clean white. I covered the soft forms in silk instead of velvet-it's more luxurious! (Velvet jewelry displays just seem cheap and tacky to me) And I designed a new logo for Josie Graff Jewelry Design-it's on my new jewelry cards (do you like their shape?).
Had my first in-person trunk show at Glass Growers Gallery in Erie, PA back in August. I'm planning on doing more live events (i.e. trunk shows, craft shows, home parties, etc.) this fall/winter.
 The Canal Park Market Village got another shop building, now there's four cute little places! They also hosted an Open Air Artisan Market in July and will host a Night Market next Saturday, September 30th, from 5-10 pm. There will be white lights strung across the sidewalk and between the buildings, more artisan vendors, and some kids games!
That was some of the things that went down this summer. I can't wait for more exciting things coming this Fall!
Josie