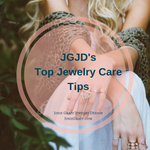 Hi Lovelies!
Our jewelry needs some TLC every once in a while. But, a lot of jewelry cleaners out there have some nasty chemicals. Ugh. So, I thought it would be good to share some of my favorite eco-friendly jewelry care and cleaning tips with you. The best part? You probably already have all the supplies at home! Read on to see what I mean!
Soft-bristled Toothbrush
The first of my favorite tips is: designate a soft-bristled toothbrush for jewelry cleaning. The bristles HAVE to be soft-anything stiffer could damage delicate stones and pearls! You can use just plain, warm water with the brush, or one of my other tips below, to gently clean your silver and gold jewelry. It should go without saying, but please, don't use this toothbrush for anything other than jewelry cleaning!
Mild Dish Soap
This works great, paired with the toothbrush, for lifting more grime and grease from your jewelry. I like to wet the bristles, add a drop of the soap, then start scrubbing. Bonus points if you use a dish soap that doesn't have any sulfates in it! Sulfates are the biggest cause of tarnish on sterling silver, so the less exposure your silver jewelry has, the prettier it will stay.
Baking Soda
Baking soda is a mild abrasive, so I would use it on solid metal surfaces and very hard stones-rubies, sapphires and diamonds. It could scratch softer stones and delicate metal finishes. To use, mix the baking soda into a paste with warm water and an optional drop of dish soap, and scrub onto your jewelry with the toothbrush. Rinse with cool water.
Vinegar
Vinegar is great for removing tarnish and bringing back some sparkle to gold and silver jewelry! Regular distilled white vinegar is fine, save the fancy stuff for food. To use on jewelry with stones, dip the ever-useful toothbrush into vinegar and scrub metal surface, taking care to not brush the stone, then rinse in cool water. For gold and silver jewelry without any stones or pearls, you can soak the the metal in straight vinegar for up to 20 minutes, rinse in cool water, scrub with wet toothbrush, and then rinse again in cool water. 
Stainless Steel Dish Scrubby
If you'd like to add a little more shine to your jewelry after cleaning, a fresh stainless steel dish scrubby or some steel wool can be used for a subtle sparkle. Dampen the steel wool or scrubby with warm water, and rub over the surface of your silver and gold jewelry. If you find that stray bits of steel got stuck, brush a strong magnet back over your jewelry to pick them off. This won't produce a high polish on your jewelry, but it does add a bit more shine.
Special care for Pearls and Stones
Pearls and gemstones need some special care when being cleaned. They're more delicate, so please use caution. For cleaning pearls, dip into warm, soapy water for up to 10 seconds, then dry with a soft, lint-free cloth. For cleaning stones like opals, turquoise and other softer stones, lightly dampen a soft, lint-free cloth with warm water and gently rub it over the stone. 
Detangling Chains
This what I do instead of solving puzzles. (Kidding! Sort of.) Detangling chains isn't something you should try to do when rushing out the door, it takes time and patience. Lay out a linen towel, or other soft cloth, on your table so you can control the chain better. Then, go grab your handy-dandy mild dish soap and some toothpicks, sewing pins, or bamboo skewers. Set the tangled chains on the cloth, then add a drop of the dish soap to the worst of the knots to help loosen them up. Use the toothpicks, sewing pins or tips of the bamboo skewers to pick apart the knots, laying detangled sections out of the way across the cloth.
There you have it, the Best Eco-Friendly Jewelry Cleaning and Care Tips from Josie Graff Jewelry Design! Which tip did you like the best? Let me know in the comments below!
xoxo,
Josie