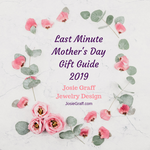 Hi Lovelies,
Eeek! Mother's Day is right around the corner! Are you STILL trying to find the perfect gift for the most important woman in your life? Do you cringe about the Mother's Day gift you got her last year? Don't worry, I've searched high and low, and found some amazing present ideas your Mom will love!
Jewelry
Definitely avoid any and all jewelry featuring pasta, trust me on this one. Upgrade to some elegantly quirky jewelry in sterling silver instead.
 JG Signature Stacking Ring with Tube-set Birthstone-$70
JG Signature Paisley Bib Necklace-$107
Emergence Collection Cluster Bib Necklace with Lab Grown Peridot-$83
Emergence Collection Cluster Stud Earrings with Lab Grown Peridot-$58
Scarves and Wraps
I love the beautiful, hand printed scarves from RefuSHE, it's hard to pick just one! And, of course, when I saw the Josie on this kimono from Rock Flower Paper, I just had to included it.
Takuma Kaleidoscope Wrap Scarf from RefuSHE-$44
Josie Ocean Summer Kimono Wrap/Scarf by Rock Flower Paper-$48.95
Tea Time
I believe that setting aside time to indulge in delicious tea is a great way for Mom to do some self care every day. Add a journal or a good novel to help her further unwind.
Best Tea Gift Set by Tea Drops-$12
Chocolate Mint Dessert Rooibos Tea from Pinky Up-$11.99
Bailey Pink Abstract Ceramic Tea Mug & Infuser by Pinky Up-$19.99
The Gratitude Journal for Women-$12.99
For the On-The-Go Mom
You know she's always super busy, so give Mom cute and easy to carry along things to help her get through the day, like the Que collapsible water bottle or the foldable shopping totes from Rock Flower Paper. Add a gorgeous and stylish shoulder bag that can hold all of her necessities. 
Que Collapsible Water Bottle in Midnight Blue-$24.95
Crete Blue Blu Reusable Shopping Bag by Rock Flower Paper-$10.95
Sole Society Susan Tote Bag-$34.98
Gifts That Give Back
I love subscription boxes that feature beautiful eco-friendly, sustainable and fair-trade items. So, not only can you give the hard-to-shop-for Mom a very lovely gift, but it also can help Mother Earth and many women-owned businesses around the world at the same time!
Cause Box Spring 2019 Subscription Box-$54.95
Refresh Artisan Box from GlobeIn-$60
Which gift do you think Mom would love best? I'd love to know what you think in the comments below!
Have a wonderful and loving Mother's Day!
xoxo,
Josie