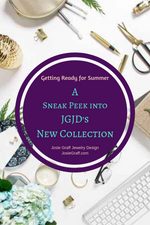 Hi Lovelies!
Summer's almost here! Do you know what that means? It means that I'm working on putting the finishing touches on my new jewelry collection! I'm still several weeks away from actually making and launching this new collection, but I wanted to show you a sneak peek of what I've been working on. Check it out below!
Brainstorming
Every time I start the design process, I have to begin with an epic brainstorming session. I come up with my influences, lots of ideas, themes, and what feelings/mood I want to invoke in my clients when they see, and wear,the new jewelry designs. For my Summer 2019 collection, I've narrowed my design influence down to Art Nouveau Peacocks. I wanted to pay homage to my love of nature, but I also want to create a jewelry collection that's both sassy and classy, and peacocks feel like a way to tie everything together!
Researching
Now that I've got my theme idea, it's time to brush up on what I know about peacocks and the Art Nouveau aesthetic. Because I'm such a visually inspired person, the best place for me to go is on Pinterest. Once I've found a couple dozen or more reference images, I print off my favorites so I can study them in more detail and have access to them right in my sketch book. I don't like using anything digital when I'm drawing out designs, it's so easy for me to miss a particular line or curve that will make or break a finished piece. Plus, it's super annoying to constantly have to unlock my phone!
Sketching Ideas
Here comes the hard/fun part of taking all of my research and ideas, and turning them into jewelry designs. I'm not the kind of artist who can look at something and create an exact replica, I'm much better at abstracting my inspiration into something new. But, it does take a lot of brain power to tweek everything so that it's as beautiful and as strong of a design that it can possibly be. So, I spend a lot of time looking at my favorite reference pictures and sketching, and eracing, and sketching until I'm happy with how each design looks. Once everything is drawn out, I can start my favorite part, creating beautiful jewelry for you to wear!
I hope you've enjoyed this little sneak peek into how this jewelry designer comes up with new designs and launches jewelry collections for you to love and wear. If you like what you just read, go ahead and leave a comment below, and join my V.I.P.  club for even more insider info on my new jewelry collection!
 xoxo,
Josie