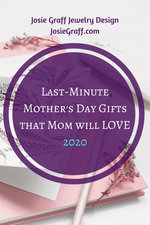 Hi Lovelies,
Mother's Day is quickly coming up on May 10th. Are you ready? I've put together a round-up of some last minute Mother's Day gift ideas that Mom will love, AND you don't have to break quarantine to give them! Let's just dive into the goodness.
Jewelry
A jewelry designer saying that Mom will love receiving jewelry?! Shocking, I know :p But in all seriousness, moms do so much, they deserve something beautiful that they can cherish. There are some many independent jewelers to chose from that she is sure to love, but in case you're looking for some help, I'd love to work with you at JosieGraff.com
Flowers
Check with your local florist to see if they're doing online/phone orders for Mother's Day, with curbside pick up or deliveries. I know the ones in my area do!
Pampering
With all the added stress of the lock-down, on top of everything else, Moms everywhere need some extra TLC. From fancy teas and coffees, handmade soaps and bath supplies, beautifully scented candles and lotions to cozy robes and pajamas, you're sure to find something. And this is another way to support some of your local small businesses, too! Many of them have been able to pivot to curbside pick-ups and online deliveries to serve their customers during this coronavirus pandemic. 
Gift Cards
 When all else fails, or it's 11:59 pm the night before Mother's Day and you forgot to get mom anything, most of her favorite places have gift cards available. They're even online so you don't have to go out to one of the three stores open to find the gift she'd like. I also have digital gift cards that go straight to her inbox, and I'm offering free online styling support for every gift card recipient, so Mom is sure to feel special! Click Here to see more.
That's the end of the ideas I had on last-minute Mother's Day gifts that Mom will love. Which one is your favorite? Was there a great idea that I missed? I'd love to know in the comments below!
xoxo,
Josie