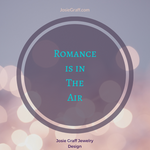 Hi Lovelies,
Whether you're planning to (virtually) hang out with your Besties for Galentine's Day, snuggle up with your Sweetie, or take time for yourself this Valentine's Day Weekend, I have some ideas you might like to try :)
With Your Besties
1. Virtual Cookbook Club-pick a cookbook you all have/want to try out, host a cooking party on Zoom, and have fun catching up with one another. Bonus-when you call all meet up in person again, you can use the recipes to plan a potluck party!
2. Host a Virtual Historical Romance Watch Party-pick one the many awesome Historical-based Romantic shows/movies currently on streaming platforms (Bridgerton, Outlander, The Crown, Sandington, Victoria, The Great, Emma, Belle, etc.), set up an online watch party (Netflix with Friends, Facebook, Zoom), and everybody grabs their favorite beverage/snack/chocolate and hangs out.
With Your Sweetheart
1. Learn something new together- pick a subject/activity you both want to know more about/try out, find a tutorial, and try it out together.
2. Recreate a favorite trip (or dream trip!)-use Google to virtually visit a beloved place (both street view and some of the sights/free museums), cook some of the food from that place, and plan your dream trip together that you'll go on once it's safe to do so.
3. Favorite Movie Marathon-pick a movie theme/genre you both enjoy (doesn't have to be romance, if that's not your thing), make/buy/eat you and your partner's favorite snacks, and snuggle up all day.
Self Love Time
1. At-Home Spa-take as much time as you'd like using your favorite/trying out some new personal/beauty care products, put on relaxing music, light some candles, and chill out for the day.
2. Treat Yourself-indulge in/splurge on something that you've been putting off on (flowers, a beloved food, jewelry, books, movies, hobbies you haven't had time for, etc.) and enjoy it, guilt-free.
3. Pick one of the other ideas from above-just because you may be flying solo, doesn't mean that the other ideas I've listed are off-limits!
xoxo,
Josie
P.s. Don't forget, JGJD's doing a Galentine's Day Virtual Trunk Show tomorrow, February 13th, at 3pm EST! Which is another great Valentine's Day Weekend activity, just sayin' ;) Join me HERE